Continuing Education
September 10, 2013
Hot Topics in Feline Nutrition: FLUTD and The Great Carbohydrate Debate

Sponsored by: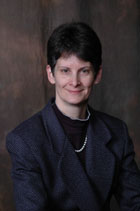 S. Dru Forrester DVM, MS, Diplomate ACVIM
Dr. Forrester received her DVM from Auburn University in 1985 and completed an internship, residency, and M.S. degree at Texas A&M University in 1989. She became a diplomate in the American College of Veterinary Internal Medicine (Small Animal Internal Medicine) in 1990. From 1990 to 2005, she was a faculty member at Texas A&M University, Virginia Tech, and Western University of Health Sciences in southern California. Dr. Forrester's passion is anything that relates to helping others learn. She enjoys teaching and has received numerous teaching awards, including the national Norden/Pfizer Distinguished Teacher Award.

Dr. Forrester joined Hill's Pet Nutrition in 2005 and currently serves as the Director of Scientific Communication and is an adjunct faculty member in the Department of Clinical Sciences at Kansas State University. Her areas of interest include evidence-based medicine, clinical problem solving, communication effectiveness, small animal nephrology and urology, and clinical nutrition.