Welcome
Welcome to the official website for the Dallas County Veterinary Medical Association (DCVMA). DCVMA has been serving the Veterinary Profession and Dallas Community since 1954.
---
President's Message
Dear Colleagues,
I cannot believe that summer is already drawing to an end. My hope is that those families with children have a fun and successful start to a new school year. May you all settle back in to the routine of early mornings because of the insane traffic!
Last month we were fortunate to have Dr. Ashley Wiese, DVM, MS, DAVAA and Dr. Jayme Hoffberg, DVM, DACVECC with us for a great discussion on critical patient anesthesia and common toxicities. The DCVMA would like to thank both Drs. Wiese and Hoffberg, as well as MedVet Medical & Cancer Centers for Pets for making this presentation possible. We would also like to thank all of the members who made time in their summer schedules to attend the meeting.
In September we will welcome Dr. Catherine Lenox, DVM, DACVN to speak about "Nutritional Truths--The Expanding Role of Nutrition in the Diagnosis and Management of Gastrointestinal Disorders." The meeting has been graciously sponsored by Royal Canin. Dr. Lenox received her DVM from the University of Missouri. She completed a small animal rotating internship at Colorado State University and a residency in veterinary nutrition at the Virginia-Maryland Regional College of Veterinary Medicine. She was board certified by the American College of Veterinary Nutrition in 2011. Dr. Lenox spent three years in clinical practice prior to joining the Royal Canin team in August 2014. She is also certified in veterinary acupuncture.
The Dallas County Police Department recently introduced its newest canine officer Rony, who will be traveling to his new home in Dallas from Florida in 3 weeks. We are pleased that the DCVMA could be a part of supporting this cause! See picture to below.
We are still taking nominations for future Board members. If you or someone in your practice is interested in serving as Senior Board member for the DCVMA, please contact one of the Board members or Mandy Ricketts at dcvma@dallasvma.org. We would love for you to get involved with the DCVMA!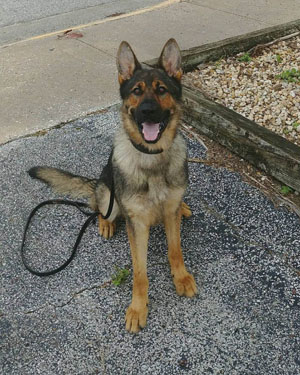 Angel Thompson, DVM, DACVS