Continuing Education
April 9, 2013
Practice Management

Sponsored by: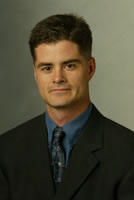 Byron Farquer, DVM, AVA
Dr. Farquer recognized that professionals, although highly trained in a discipline, historically lacked access to easy to understand and concise information on critical business principles in small business: Financial, Marketing, Management, and Facility Siting and Design – hence the reasoning for development of the program and founding of the Company.
Dr. Farquer, a Boettcher Scholar, graduated from Colorado State University with honors, in 1991. He has completed advanced research projects in equine orthopedics and assisted in the development of academic programs in use at CSU in swine production medicine and bovine herd health analysis.
With a portfolio of experience that includes veterinary hospital ownership, advanced business and real-estate education, Dr. Farquer is a recognized expert in ownership transition and practice valuation. He provides insightful advice on business development and structuring, financial analysis, asset growth and management, and strategic business planning.
Dr. Farquer is a frequent lecturer at national veterinary conferences, a published author, and a Charter Member of the Association of Veterinary Practice Management Consultants and Advisors.