Continuing Education
October 14, 2014
Let's talk about the liver and hormones!

Sponsored by: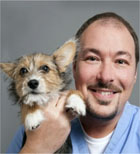 Keven Gulikers, DVM, MS
Dr. Gulikers received a Doctorate in Veterinary Medicine from Oklahoma State University College of Veterinary Medicine in 1998 and completed a private practice internship in 1999 in south Florida. From 1999 to 2002 he completed a residency in Small Animal Internal Medicine and earned a Master of Science degree in Veterinary Medical Sciences at Virginia-Maryland Regional College of Veterinary Medicine. After his residency he worked in Phoenix for four years before moving to Dallas.

Dr. Gulikers has been the recipient of numerous honors, awards and grants, and has instructed and published on various subjects in his field. He is board-certified by the American College of Veterinary Internal Medicine, and his interests include gastroenterology, liver disease, endocrinology (especially thyroid-related diseases) and diagnostic procedures such as abdominal ultrasonography, endoscopy and laparoscopy.

When not practicing medicine, Dr. Gulikers enjoys playing soccer and tennis, and travelling.